CB69-TZ Solar Panel Security Outdoor WIFI Battery Camera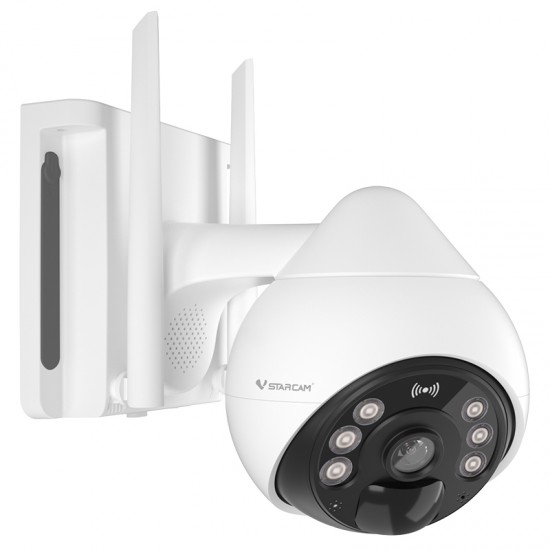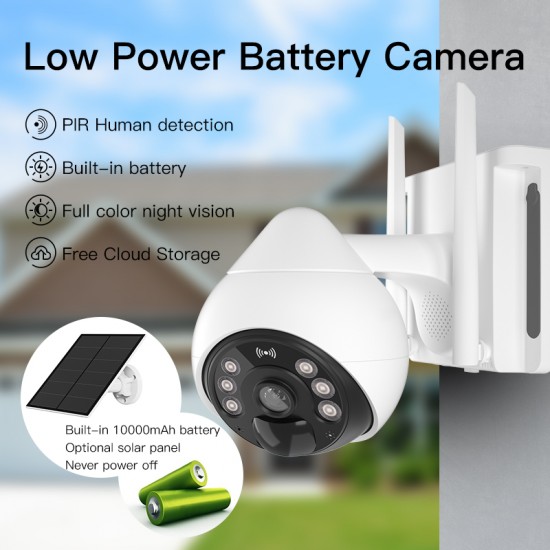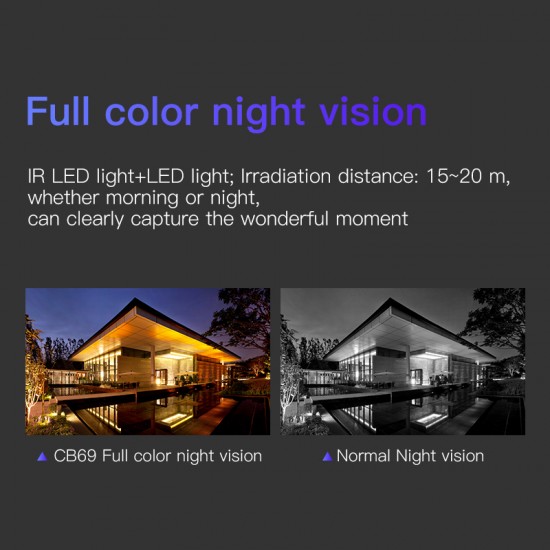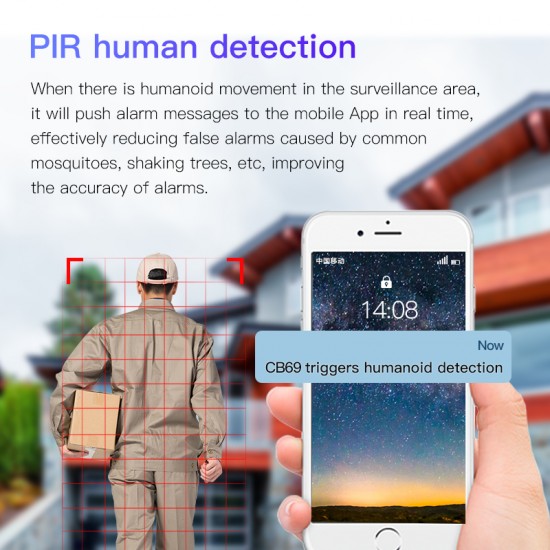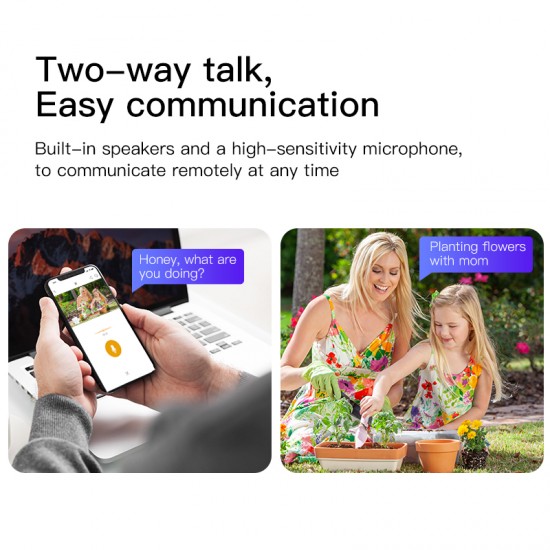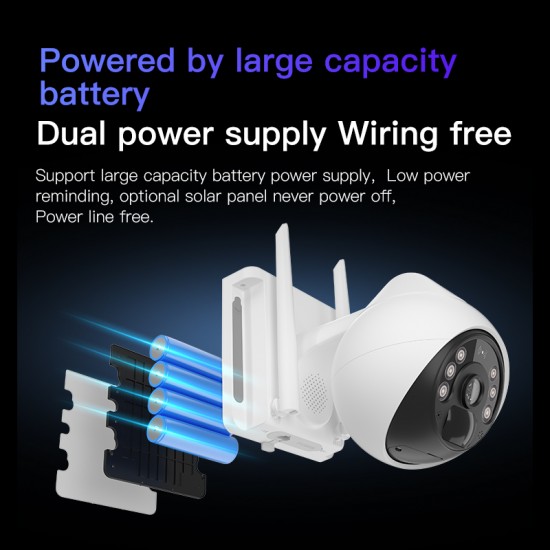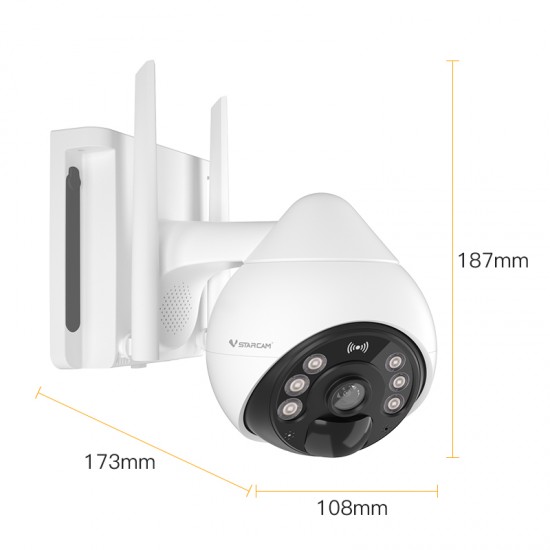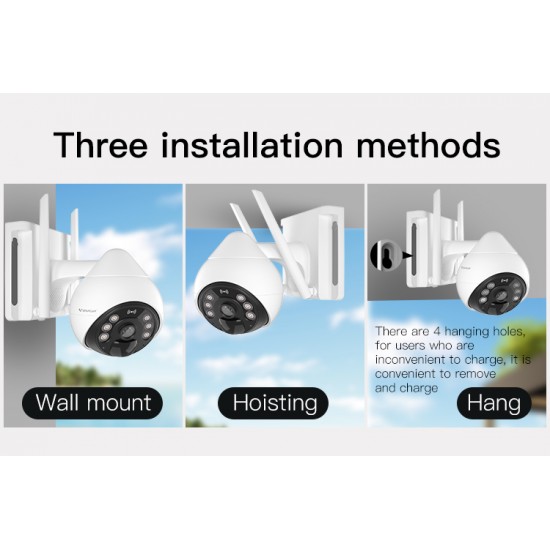 New Hot








CB69-TZ Solar Panel Security Outdoor WIFI Battery Camera
Stock:

76

Model:

CB69-TZ

Weight:

920.00g

Dimensions:

108.00mm x 172.00mm x 187.00mm
[ Solar Powered Battery Rechargeable & Stable WIFI Connection ] VStarcam WIFI outdoor solar security camera CB69 built-in 4pcs 2500mAh rechargeable battery with solar panel. In sufficient sunlight, the high energy conversion rate 5.5W solar panel can charge camera faster. (The solar panel is including in package.)

[ 2022 Upgraded Smart PIR Human Detection & Real-time Notification Alerts ] VStarcam CB69 has 2022 upgraded humanoid detection , with AI smart algorithms , camera significantly enhance human recognition to reduce false alarms , and can send real-time alerts wherever you are . PIR detection distance is up to 25 meters (83ft). Close can save power. PIR Human detection, more accurate detect, efficiently reduce the invalid alarm, which can efficiently filter the invalid alarm caused by curtain swing, light change, non-human passing, shacking, etc. It is on duty 7*24 hours a day, deeply optimized the response ability of PIR human detection, and the wake-up capture speed can reach 1 second. When detects human movement, the camera will immediately alarm you by your mobile phone.
[ 3MP HD 101° Super Wide Camera Viewing & 360° Rotatable Bracket & IP66 Waterproof ] VStarcam CB69 built-in 101° super wide viewing angle monitor . It can be adjustable panning 345° and tilting 35° . Say goodbye to bulkiness. VStarcam CB69 adopts compact design with a simple black and white housing. It's stylish enough to embellish your life but simple enough to look good anywhere. What's more, its weather proof design keeps it operating without being interrupted any kind of weather-wind, rain, or snow.
[ Night Vision & Intercom & Multi-user Sharing ] VStarcam WIFI camera CB69 has 3MP high definition night vision imaging indoor and outside the house even at night. The built-in noise-canceling microphone picks up clear audio and lets you hear and see what's happening in your backyard wherever you are. CB69 camera allows up to 4 family members or friends to live view the surveillance camera simultaneously.
[ Three Night Vision modes are available to meet any need ]
[ 01 Full-color night vision ] Your night vision is now lit up and vividly restored to full-color thanks to two built-in spotlights and professional optical lenses.
[ 02 Black-and-White night vision ] If you dont need extra lighting, just switch the camera to the black&white night vision via the O-KAM APP and still see 25 meters away.
[ 03 Smart night vision ] In this mode, VStarcam CB69 will automatically switch from black-and-white monitoring to color monitoring , turning on the spotlights when it detects human movement. The alert video will be recorded in full-color, so you get all the details needed. Now that's pretty smart!
[ Free Lifetime Cloud Storage & Encryption Privacy Protection ] 7 Level Security encryption personal privacy protection , protect your recordings and remote access. wifi camera is built with 1920* 1080P HD camera which can record clear videos for you to watch remotely in real time through the O-KAM APP . All the recordings will be saved to the cloud storage automatically for 3 days loops and you can watch or download the videos from the cloud storage to your mobile. Besides, CB69 supports maximum 256Gb TF card.
[ What Is In The Package ] 1 * Security Camera CB69 ; 1 * Solar Panel ; 1 * USB Cable ; 1 * Pack of Screws ; 1 * User Manual.
Outdoor camera
Resolution
Main stream: 1080p(1920×1080)@15fps/1296p(2304×1296)@15fps
IR irradiation distance
IR-CUT with auto-switching,6 pcs IR LED lights; Irradiation distance: 10~15 m
Memory
Support T-Flash card(max supprt 256GB), Free cloud storage
Pan-tilt
Pan 345° /Tilt 35°
Lens/View Angle
3.6mm@F2.0/101° Diagonal
Solar panels
Product Features
Electrical performance parameters of finished strip line: Minimum output power:≥2.5W; Open circuit voltage:≥5.2V; Standard operating voltage:≥5V; Standard operating current:≥500mA; Short-circuit current:≥520mA; Cell conversion efficiency:≥19.5%;
Dimension specification of bare solar panel
Solar panel length:169±0.25mm; Solar panel width:116±0.25mm; Solar panel thickness:<4mm;
Environmental conditions for use and storage
Storage conditions: normal temperature, humidity no more than 60%; Use in outdoor environment without shelter in the sun; Working environment temperature: - 20 ℃ ~ 60 ℃;
Outdoor Battery Cameras Comparison







Camera Model
CB11
CB53
CB54
CB69
BG69
Video
3MP Resolution
2MP Resolution
2MP Resolution
3MP Resolution
3MP Resolution
Viewing Angle
110 ° diagonal
110˚(Diagonal)
110˚(Diagonal)
101˚(Diagonal)
Pan: 345° / Tilt: 35°
107˚(Diagonal)
Pan: 345° / Tilt: 35°
Smart Detection
PIR Humanoid Detection
PIR Humanoid Detection
PIR Humanoid Detection
PIR Humanoid Detection
PIR Humanoid Detection
Power Supply
15000mAh Rechargeable Battery;


3pcs 21700 batteries;


External 5V/5.5W Solar Panels
5000mAh Rechargeable Battery;
2pcs 18650 batteries;
External 5V3.3W Solar Panels
5000mAh Rechargeable Battery;
2pcs 18650 batteries;
External 5V/3.3W Solar Panels
10000mAh Rechargeable Battery;


4pcs 18650 batteries;


External 5V/5.5W Solar Panels
10000mAh Rechargeable Battery;


4pcs 18650 batteries;


External 5V/5.5W Solar Panels
Solar Panel Charging Time
14 Hours




Smart Alert




Human/Sound Alert
(finding the right footage easier)




Human Alert
(finding the right footage easier)




Human Alert
(finding the right footage easier)




Human/Sound Alert
(finding the right footage easier)




Human/Sound Alert
(finding the right footage easier)




Wireless connection




Camera's AP hotspot configuration;
WIFI configuration
Camera's AP hotspot configuration;
WIFI configuration
Camera's AP hotspot configuration;
WIFI configuration
Camera's AP hotspot configuration;
WIFI configuration
Camera's AP hotspot configuration;


4G SIM Card configuration

Microphone / Speaker
Two-way audio
Two-way audio
Two-way audio
Two-way audio
Two-way audio
Infrared Night Vision
3 Mode Night Vision;
2 pcs IR LED lights;
2 pcs LED lights;
Irradiation distance: 8 meters
Night Vision;
6 pcs IR LED lights;
Irradiation distance: 6 meters
3 Mode Night Vision;
6 pcs IR LED lights;


Irradiation distance: 6 meters

3 Mode Night Vision;
6pcs 850nm infrared lamps;


Irradiation distance: 25 meters.

3 Mode Night Vision;
6pcs 850nm infrared lamps;


Irradiation distance: 25 meters.

Average Install Time
1-3 minutes
1-3 minutes
1-3 minutes
1-3 minutes
1-3 minutes
Storage Options
TF card(max 256GB);
Free 3days Cloud storage;
TF card(max 256GB);
Free 3days Cloud storage;
TF card(max 256GB);
Free 3days Cloud storage;
TF card(max 256GB);
Free 3days Cloud storage;
TF card(max 256GB);
Free 3days Cloud storage;
Supported APP
O-KAM ( Android/iOS version);
O-KAM ( Android/iOS version);
O-KAM ( Android/iOS version);
O-KAM ( Android/iOS version);
O-KAM ( Android/iOS version);