CS68-X5 5X Zoom 3MP AI PTZ WIFI Outdoor Camera
[ 360 ° vision for wider protection ] The CS68-X5 features flexible pan & tilt design to watch over large space, which helps greatly reduce blind spots in monitoring. The camera is well engineered with 1080p video clarity(You can adjust resolution to 3MP in the APP). AI-powered human shape detection and weatherproof design, so as to deliver smart, reliable protection.
[ 5X Zoom ] Compared to old 4X zoom feature, 5X optical zoom of CS68-X5, a new breakthrough in VStarcam's product line, is powered by advanced new chipest that is based on intelligent sensing of the actual environment. With 5X zoom, you can adjust zoom times in Eye4 APP , so you will get more details of the object or person captured in real-time.
[ Rotate to cover every corner that matters] Can't see wide enough with your current security camera? The CS68-X5 is here to help extend your vision. The camera supports Pan and Tilt . Pan 355°, Tilt 95° , 110° wide view angle. Being able to pan and tilt to take in 360° field-of-view, the camera can easily cover wide areas and greatly reduce blind spots.
[ AI Human Detection] Smarter than ever! As an upgrade from simple motion detection , the embedded AI algorithm intelligently detects the motion of human shapes in real time. When people enter your customized detection area, you will be alerted immediately.

[ Sound and light alarm ] When detected suspicious moving objects, the device will automatically capture the suspicious image , issue a high-decibel siren alarm to drive it away. Also it will auto turn on the high-intensity glare light flashing alarm.
[ Great night vision at extended distance ] To provide 24/7 peace-of -mind, the CS68-X5 supports late-night monitoring with super full-color night vision of up to 20 meters(70 feet). It allows you to see what's happening in clear details no matter when.

[ Elegant and durable design] Say goodbye to bulkiness. This camera adopts a oval and compact design with a simple black and white housing. It's stylish enough to embellish your life but simple enough to look good anywhere. What's more, its weatherproof design keeps it operating without being interrupted by any kind of weather-wind, rain, or snow.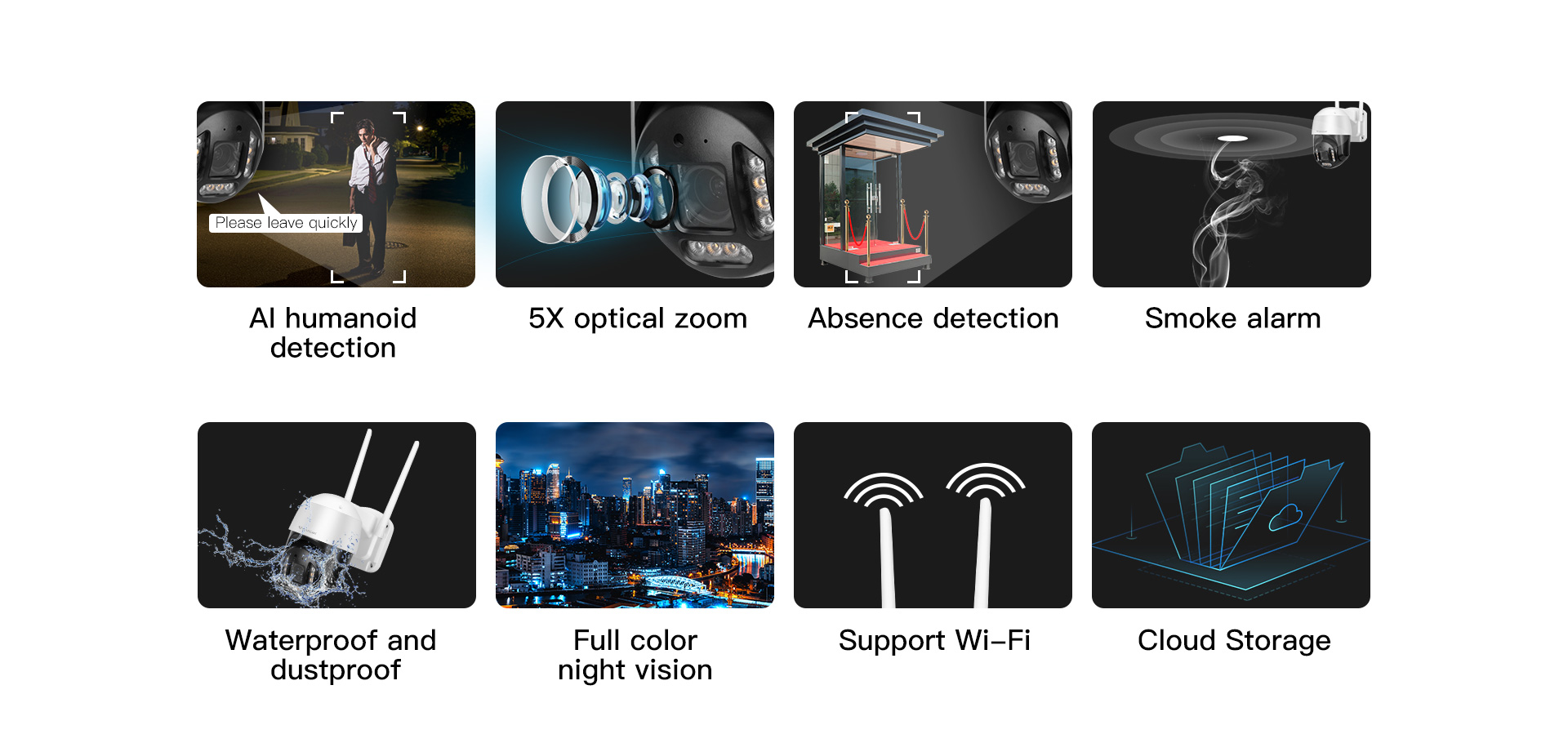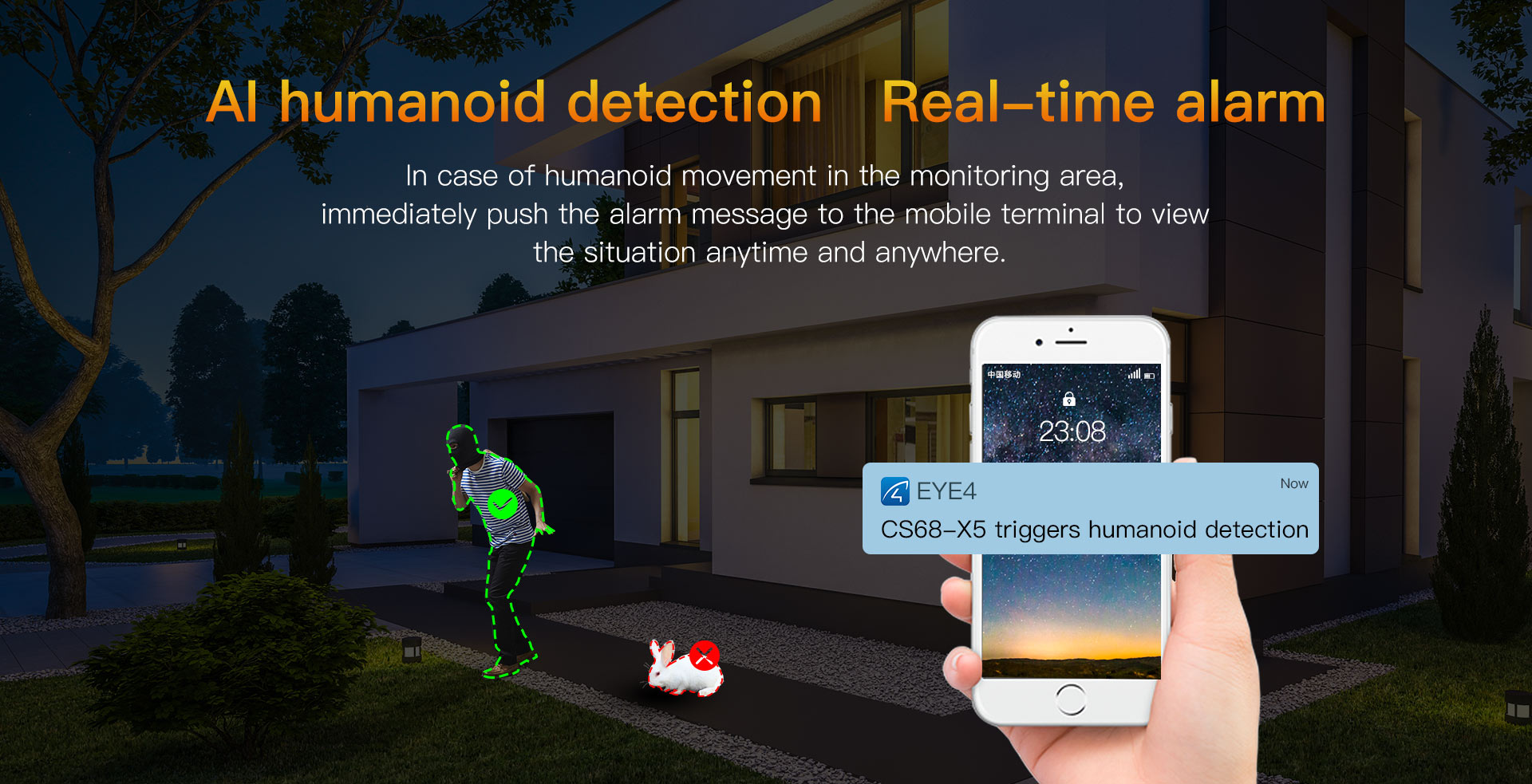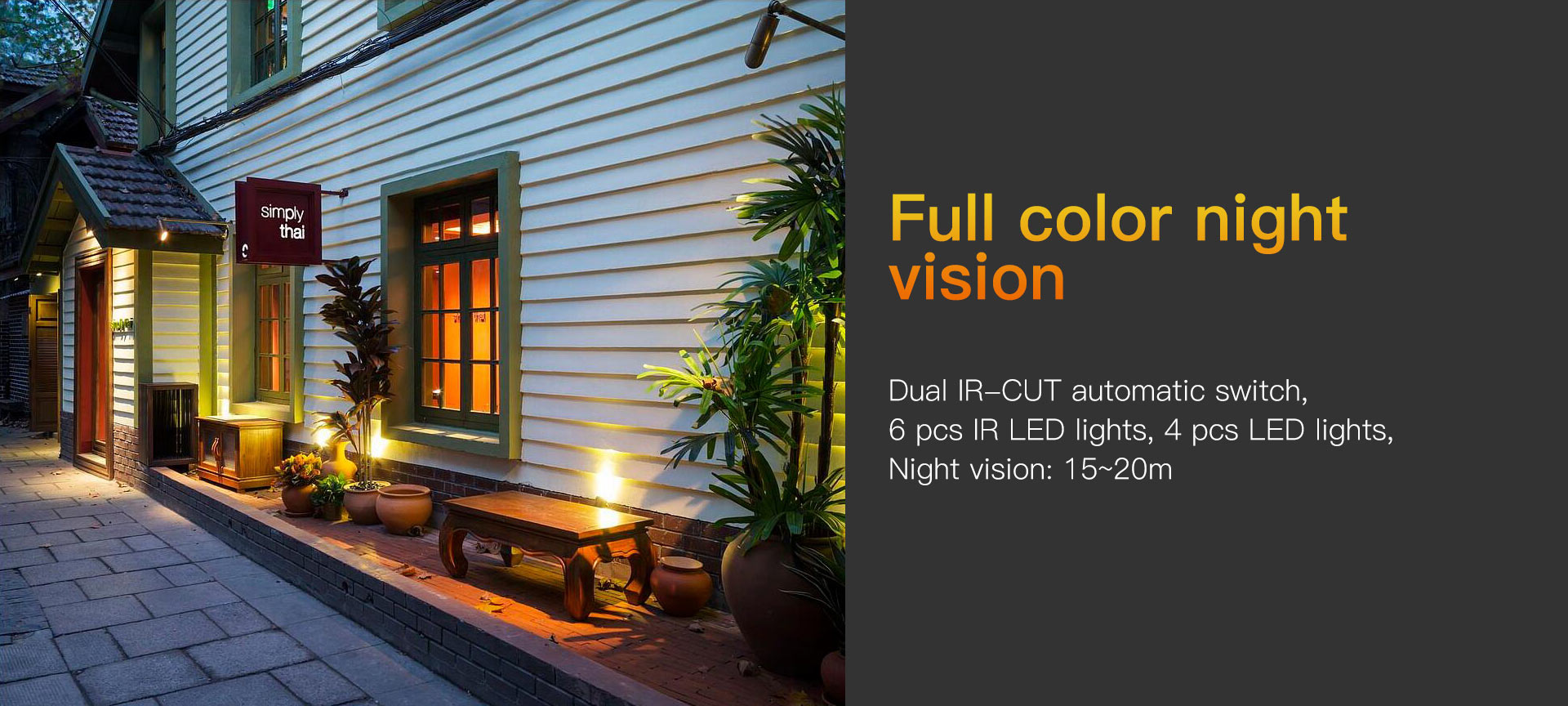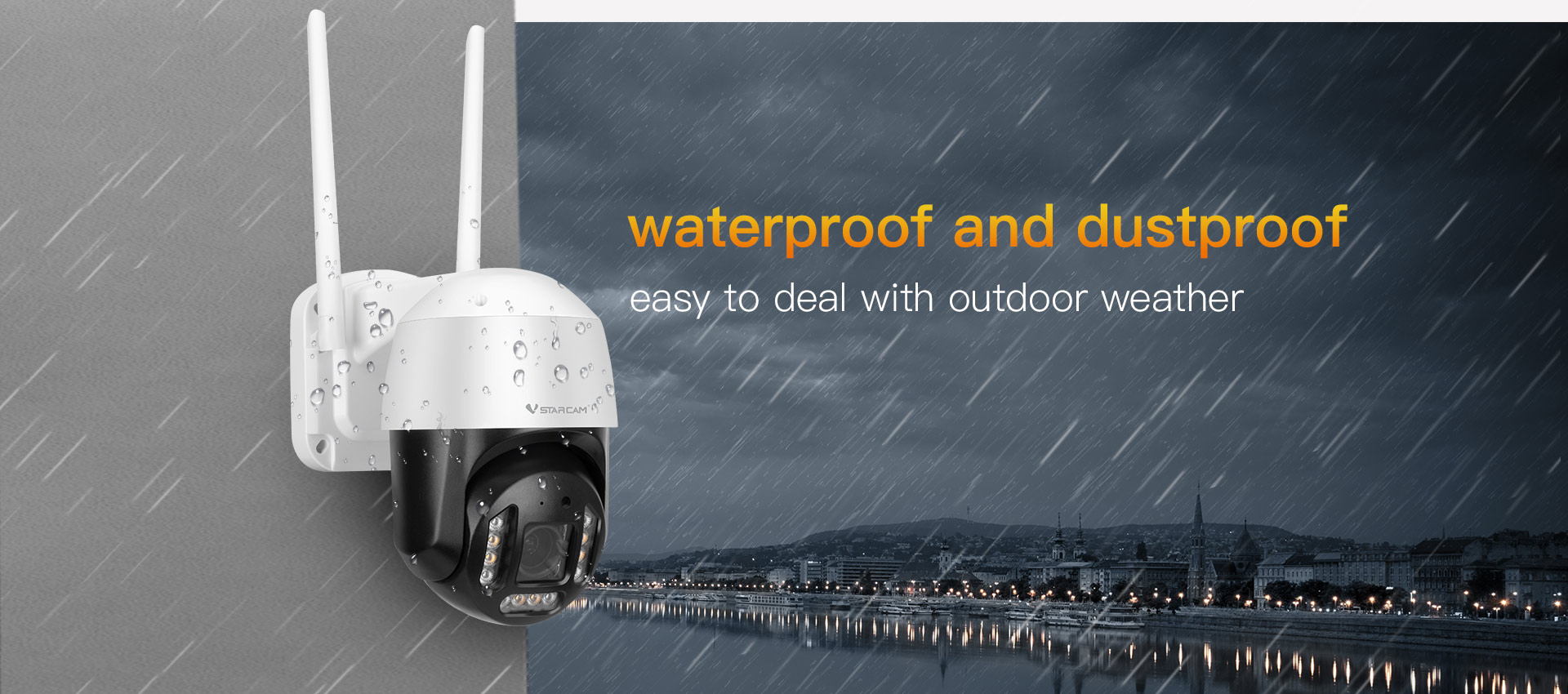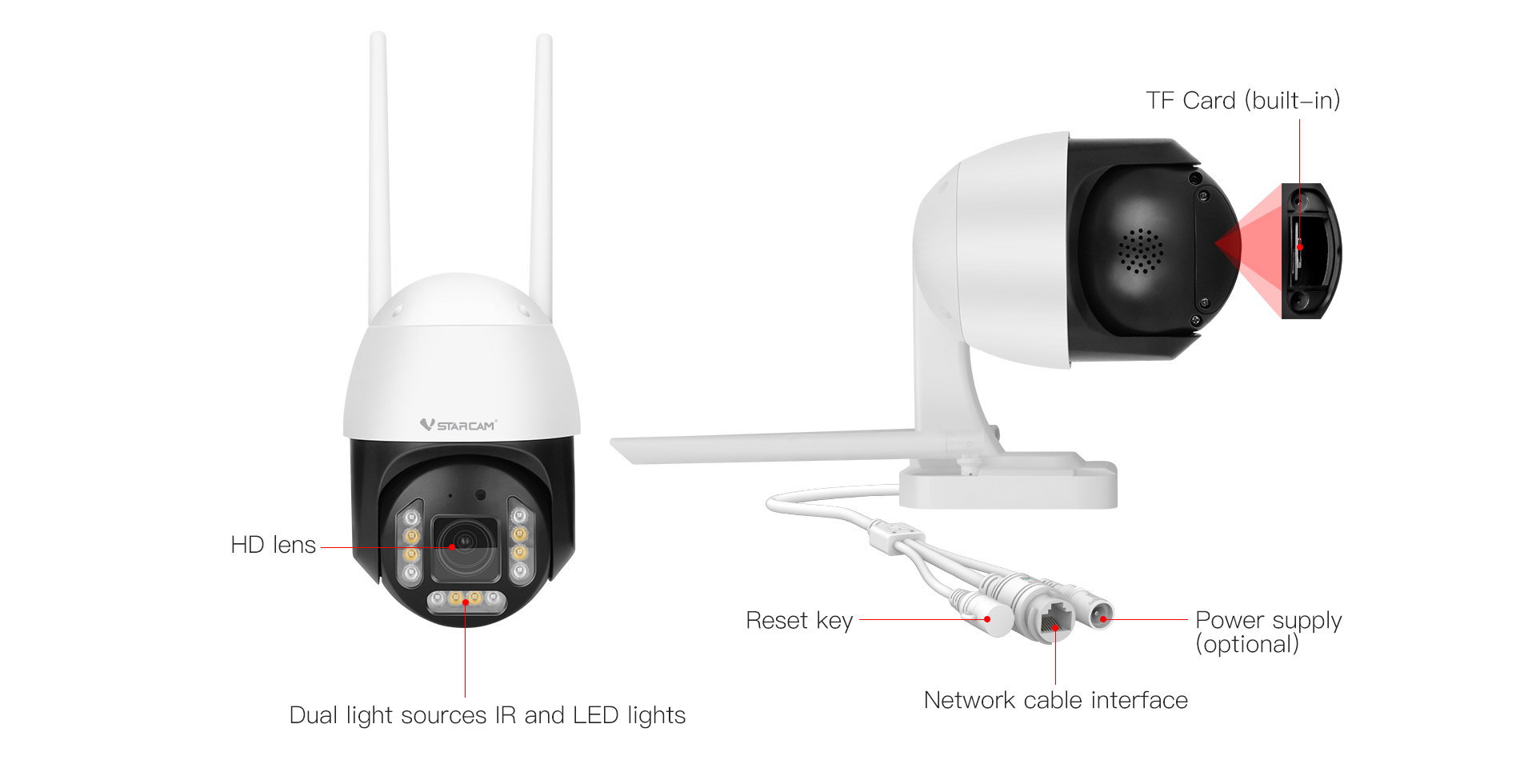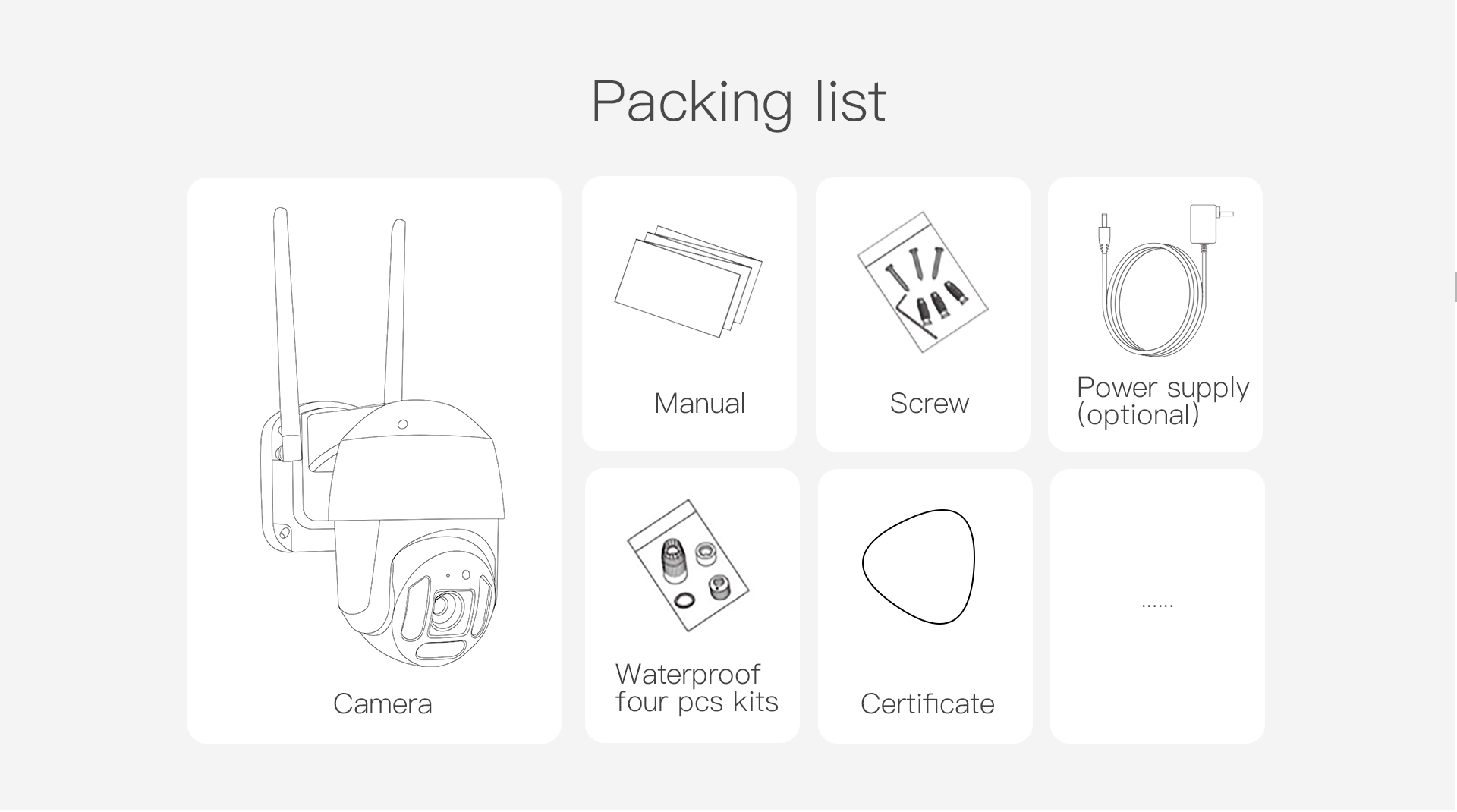 Outdoor camera
Memory
Supports T-Flash card(max supports 256GB); Cloud storage; NVR;NAS
Pan-tilt
Pan 355°/Tilt 95°
Resolution
Main stream:1080p(1920×1080)@30fps/1296p(2304×1296)@15fps
IR irradiation distance
IR-CUT with auto-switching,6 pcs 850nm IR LED lights, 6 pcs high-power LED lights; Irradiation distance: 15~20 m
Lens/View Angle
3.5-9.5mm zoom lens/Diagonal visibility 41~110°
Zoom Outdoor Camera Comparison

Camera Model
CS65Q-X5
CS68-X5
CS66Q-X18
CS630Q-X30
Video
5MP Resolution
3MP Resolution
4MP Resolution
5MP Resolution
Pan & Tilt
Pan

:

355° / Tilt: 95°

Pan:355° / Tilt: 95°
Pan: 350° / Tilt: 90°
Pan: 350° / Tilt: 98°
Smart Detection
Motion detection;
Humanoid detection;
Humanoid tracking;
Smoke alarm;
Absence detection alarm
Motion detection;
Humanoid detection;
Humanoid tracking;
Smoke alarm;
Absence detection alarm
Motion detection;
Humanoid detection;
Humanoid tracking;
Smoke alarm;
Absence detection alarm
Motion detection;
Humanoid detection;
Humanoid tracking;
Smoke alarm;
Absence detection alarm
Zoom Times
5X Optical Times
5X Optical Times
18X Optical Times
30X Optical Times
Smart Alert
Human/Motion/Sound Alert
(finding the right footage easier)
Human/Motion/Sound Alert
(finding the right footage easier)
Human/Motion/Sound Alert
(finding the right footage easier)
Human/Motion/Sound Alert
(finding the right footage easier)
Mircophone / Speaker
Two-way audio
Two-way audio
Two-way audio
Two-way audio
Infrated Night Vision
Full Color Night Vision;
6pcs 850nm infrared lights;
4pcs high-power spotlights;
Irradiation distance: 15-20 meters
Full Color Night Vision;
6pcs 850nm IR LED lights;
6pcs high-power LED lights;


Irradiation distance: 15~20 meters.

Full Color Night Vision;
6pcs 850nm infrared lamps;


Irradiation distance: 25 meters.

Full Color Night Vision;
6pcs 850nm IR LED lig;
3pcs laser lights;


Irradiation distance: 50~70 meters.

Average Install Time
1-3 minutes
1-3 minutes
1-3 minutes
1-3 minutes
Storage Options
TF card(max 256GB);
Cloud storage;
NVR;


NAS

TF card(max 256GB);
Cloud storage;
NVR;


NAS

TF card(max 256GB);
Cloud storage;
NVR;


NAS

TF card(max 256GB);
Cloud storage;
NVR;


NAS

Supported APP
Eye4 ( Android/iOS version);
O-KAM ( Android/iOS version);
Eye4 Windows version;
Eye4 ( Android/iOS version);
O-KAM ( Android/iOS version);
Eye4 Windows version;
Eye4 ( Android/iOS version);
O-KAM ( Android/iOS version);
Eye4 Windows version;
Eye4 ( Android/iOS version);
O-KAM ( Android/iOS version);
Eye4 Windows version;