【Free 64Gb TF Card 】CS630Q-X30P 30X Zoom 5MP PTZ WIFI Outdoor Camera
[ 30X Zoom ] Compared to old 4X or 5X or 18X zoom feature,30X optical zoom of CS630Q-X30, a new breakthrough in VStarcam's product line, is powered by advanced new chipest that is based on intelligent sensing of the actual environment. With 30X zoom, you can adjust zoom times in Eye4 APP , so you will get more details of the object or person captured in real-time.
[ Sound Alarm with Pro Deterrent ] CS630Q-X30 , a full-HD smart PTZ WIFI outdoor camera uses a built-in sound alarm with deterrent, while also offering two-way talk with a built-in microphone and speaker .Upon detection, CS630Q-X30 activates a loud siren to scare off intruders. The siren can reach up to 33dB strong enough to act as a deterrent .
[ AI Human Detection ] As an upgrade from simple motion detection , the embedded AI algorithm intelligently detects the motion of human shapes in real-time. VStarcam CS630Q-X30 smart home security camera cares what you care with AI human detection . When people enter your customized detection area , you will be alerted immediately. 95% fault alarm reduction , no more annoying alerts from unwanted activities like moving cars/animals ,etc.
[ IP66 Dust and Water Protection ] The IP66-certified CS630Q-X30 is reliable and durable camera that can protect you in all types of weather: rain, sunshine or even snow.
[ 5MP Resolution ] Featuring 5.0 MP full-HD resolution, CS630Q-X30 delivers crystal clear monitoring video all day. When you view camera live-time video , you can change resolution to 2688*1520P in order to see much more detail than the video from conventional systems. The integration of efficient infrared lighting enables excellent night vision up to 70 meters(230 feet), giving you clear-as -day vision in the dark of night.
[ Multiple Storage Options ] With multiple storage options , you can choose where to save your recordings. CS630Q-X30 can save all three options at the same time for added backup in case a camera is damaged or your network crashes. Supports TF card (maximum 256GB), Cloud Storage , NVR , NAS.
[ Inside the box] Vstarcam CS630Q-X30 PTZ camera *1 、Power Adapter * 1 、 Network Cable *1 、 User manual *1 、Free 64Gb TF Card *1.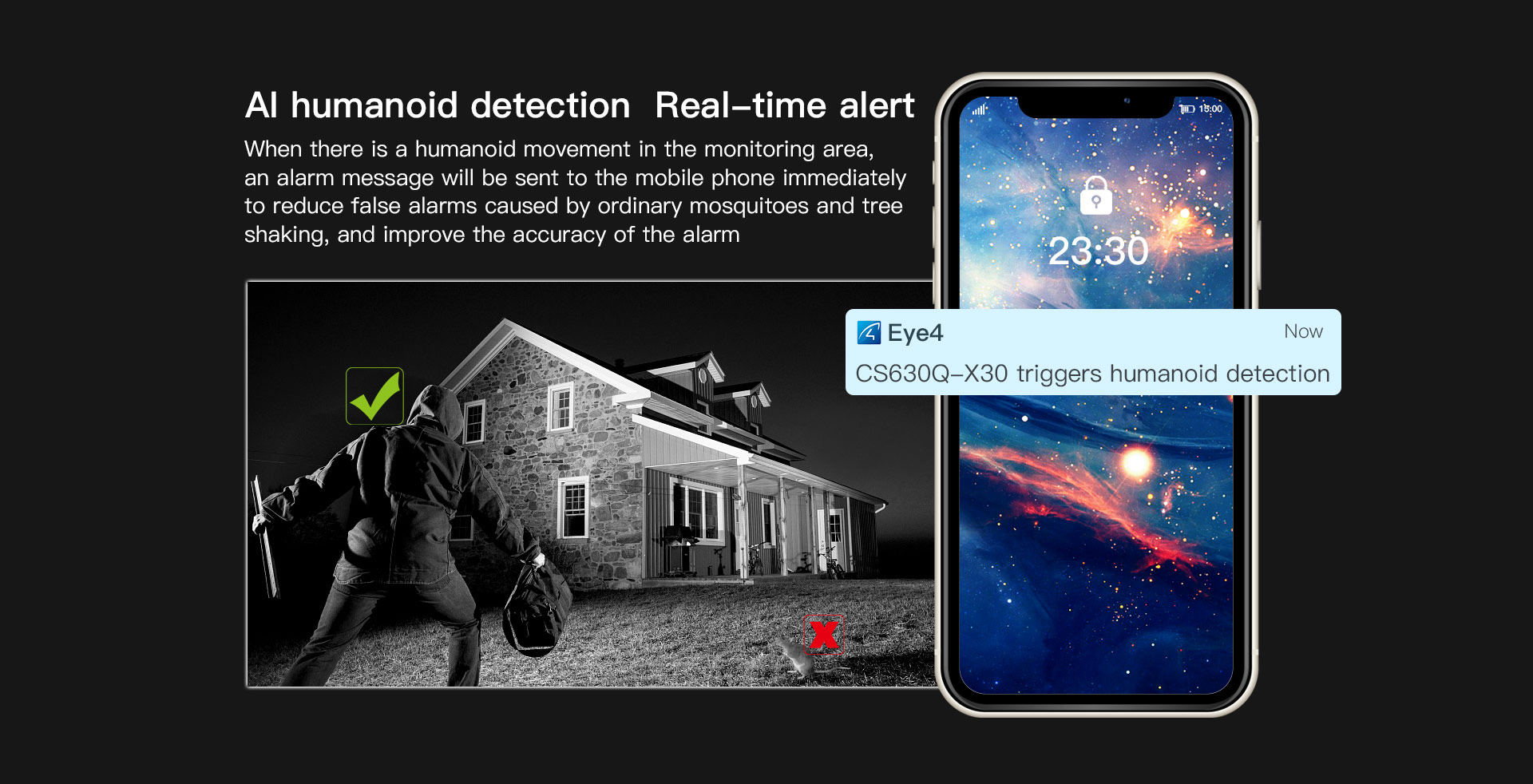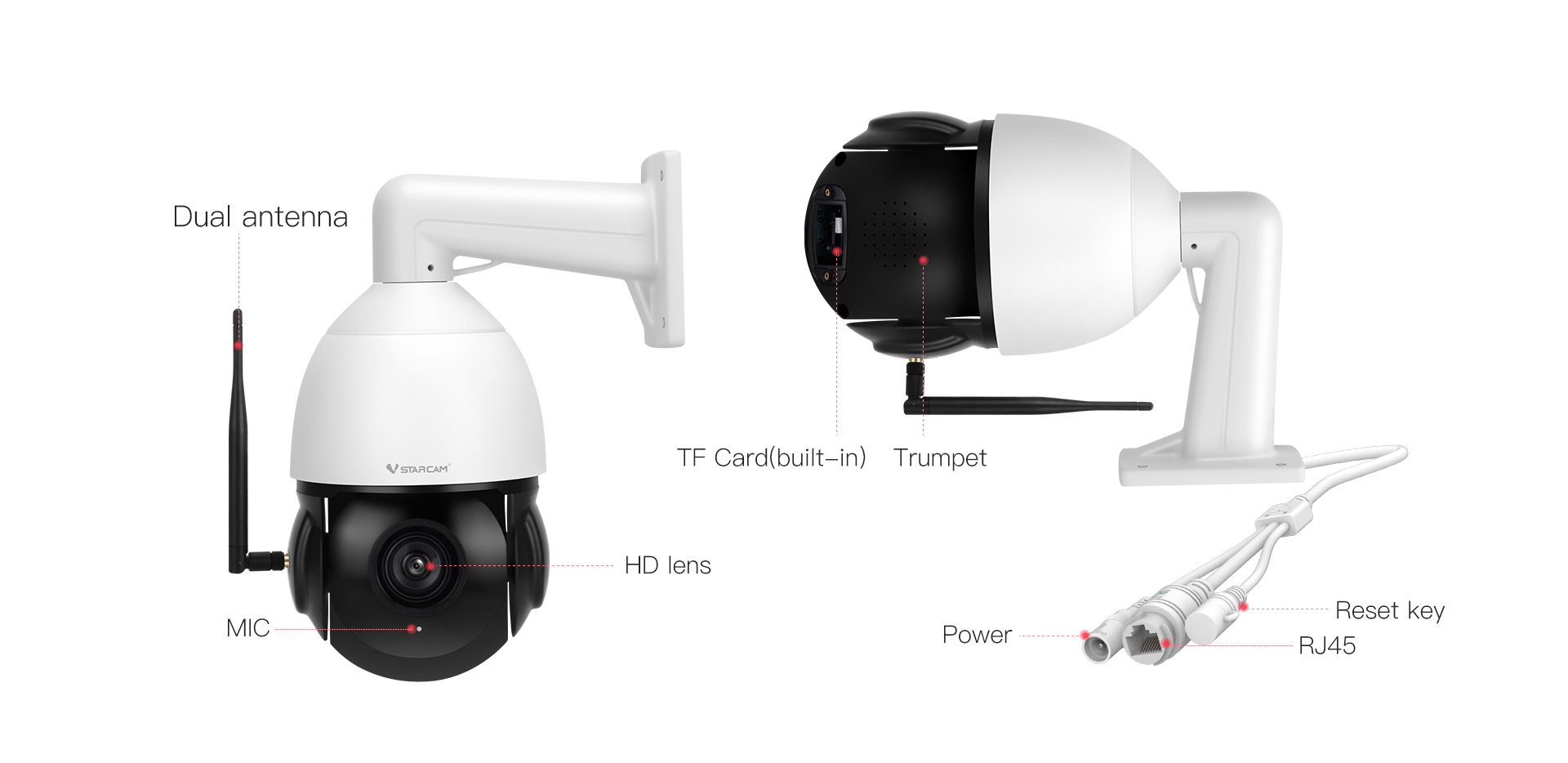 Indoor camera
Lens/View Angle
4.1-141mm zoom lens/Diagonal Viewing angle: 40.5°~99.3°
Resolution
1520P(2688*1520)@15fps
IR irradiation distance
IR-CUT with auto-switching,6 pcs 850nm IR LED lights+3 pcs laser lights; Irradiation distance: 50~70 m
Memory
TF card(Maximum support 256GB); Cloud Storage;NVR;NAS
Pan-tilt
Pan 350°/Tilt 98°
Zoom Outdoor Camera Comparison

Camera Model
CS65Q-X5
CS68-X5
CS66Q-X18
CS630Q-X30
Video
5MP Resolution
3MP Resolution
4MP Resolution
5MP Resolution
Pan & Tilt
Pan

:

355° / Tilt: 95°

Pan:355° / Tilt: 95°
Pan: 350° / Tilt: 90°
Pan: 350° / Tilt: 98°
Smart Detection
Motion detection;
Humanoid detection;
Humanoid tracking;
Smoke alarm;
Absence detection alarm
Motion detection;
Humanoid detection;
Humanoid tracking;
Smoke alarm;
Absence detection alarm
Motion detection;
Humanoid detection;
Humanoid tracking;
Smoke alarm;
Absence detection alarm
Motion detection;
Humanoid detection;
Humanoid tracking;
Smoke alarm;
Absence detection alarm
Zoom Times
5X Optical Times
5X Optical Times
18X Optical Times
30X Optical Times
Smart Alert
Human/Motion/Sound Alert
(finding the right footage easier)
Human/Motion/Sound Alert
(finding the right footage easier)
Human/Motion/Sound Alert
(finding the right footage easier)
Human/Motion/Sound Alert
(finding the right footage easier)
Mircophone / Speaker
Two-way audio
Two-way audio
Two-way audio
Two-way audio
Infrated Night Vision
Full Color Night Vision;
6pcs 850nm infrared lights;
4pcs high-power spotlights;
Irradiation distance: 15-20 meters
Full Color Night Vision;
6pcs 850nm IR LED lights;
6pcs high-power LED lights;


Irradiation distance: 15~20 meters.

Full Color Night Vision;
6pcs 850nm infrared lamps;


Irradiation distance: 25 meters.

Full Color Night Vision;
6pcs 850nm IR LED lig;
3pcs laser lights;


Irradiation distance: 50~70 meters.

Average Install Time
1-3 minutes
1-3 minutes
1-3 minutes
1-3 minutes
Storage Options
TF card(max 256GB);
Cloud storage;
NVR;


NAS

TF card(max 256GB);
Cloud storage;
NVR;


NAS

TF card(max 256GB);
Cloud storage;
NVR;


NAS

TF card(max 256GB);
Cloud storage;
NVR;


NAS

Supported APP
Eye4 ( Android/iOS version);
O-KAM ( Android/iOS version);
Eye4 Windows version;
Eye4 ( Android/iOS version);
O-KAM ( Android/iOS version);
Eye4 Windows version;
Eye4 ( Android/iOS version);
O-KAM ( Android/iOS version);
Eye4 Windows version;
Eye4 ( Android/iOS version);
O-KAM ( Android/iOS version);
Eye4 Windows version;